Stone Veneer for Outdoor Living
Incorporating Natural Stone Veneer Into Your Landscape
From retaining walls to outdoor kitchens, natural sawn thin stone veneer connects your space with nature. Natural Facing is made from 100% natural stone that is cut to a thickness of approximately 3/4″ to 1.5″. This allows masons to apply stone veneer without the cost and weight of building stone. It will feel like you are on vacation without leaving your home.
Sawn Thin Stone Landscape Walls
Natural Facing is a great choice for retaining walls. Sawn thin stone veneer is durable to withstand everyday activities for years to come.
Pools with Sawn Thin Stone
Due to natural stone's low absorbency, sawn thin stone veneer is an excellent choice for areas around pools and water features. Proper installation is required for longevity. 
Outdoor Kitchens with Natural Stone Veneer
Not all products are able to withstand the  activity around an outdoor kitchen. Sawn thin natural stone, like Natural Facing, is an excellent choice. With it's natural color tones and durability, you will only want to cook outside!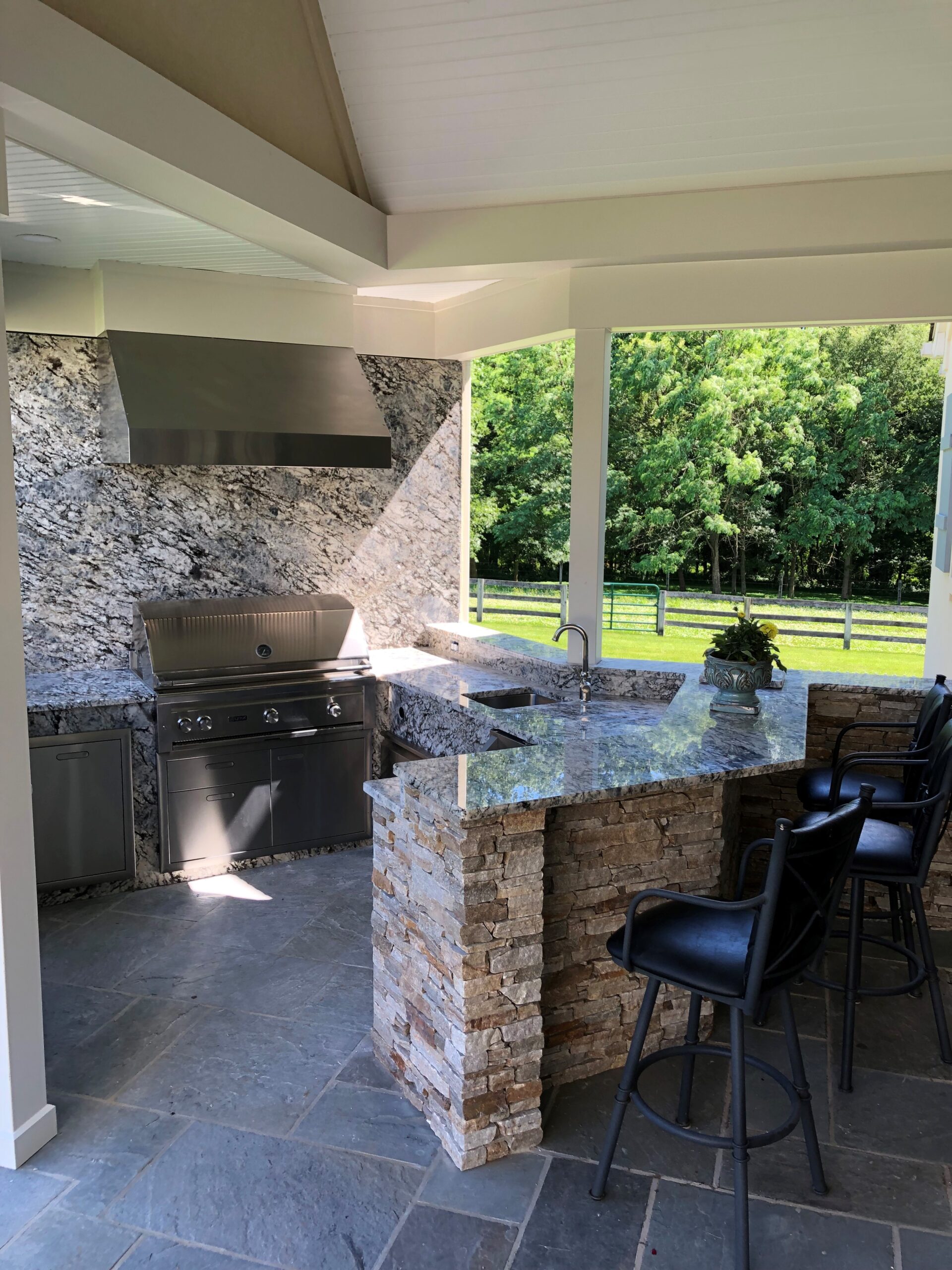 Large Outdoor Kitchen
Featuring a custom blend.
Sawn Thin Stone Fireplaces
Sawn thin stone veneer is a great option for stone fireplaces. It highlights the beauty of natural stone with the variation in color, markings, and texture only found in natural products. With Natural Facing, you can use real stone without supporting the weight of building stone. 
The Benefits of Real Sawn Thin Stone
Why should I use real stone veneer? 
Aside from the beauty and lasting value, the main reasons people choose to use real stone veneer are it's durability and natural color palette. Real stone veneer also doesn't have the problems of manufactured stone.
Is stone veneer difficult to install?
Proper installation is critical for maintaining the durability and longevity of any building material. Installing sawn thin stone veneer is easier than working with building stone. It's lighter and can be applied to various substrates.