Accenting Pools and Outdoor Living Areas with Real Stone Veneer
What's Popular for Pools in 2023
Located in Odenton, Maryland, Johnson Pools specializes in designing and building custom in-ground pools and outdoor living areas. Their Senior Design Team Leader, Zachary Casto, shared some of this year's most popular features for backyard pools and outdoor living spaces.
Outdoor Bars and Social Areas
Adding an outdoor bar to your backyard can be a great way to enhance your outdoor living space and entertain guests. Outdoor bars provide a central location for guests to gather and socialize while enjoying drinks and snacks. It also adds style and visual interest to your backyard. Beyond entertaining, an outdoor bar also provides additional food prep space, a place to enjoy a casual meal, and can even serve as a workspace for gardening or other outdoor projects.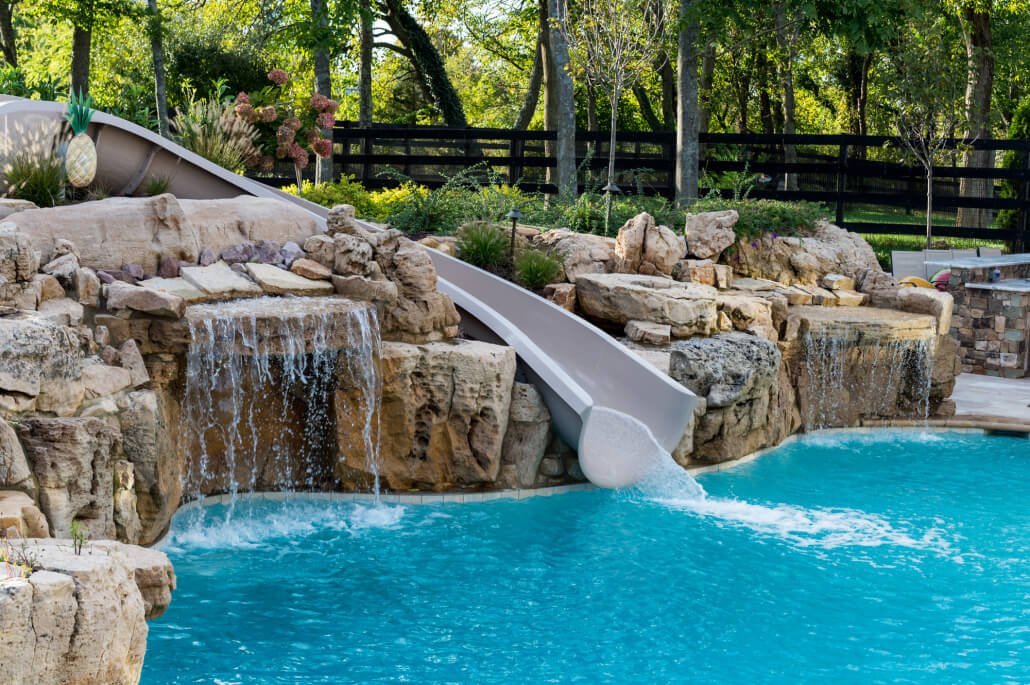 Water Features
While it may seem obvious to include water features with your pool, the integrations have become more elaborate and are increasingly inspired by nature. From waterfalls to fountains to spillover spas, water features are a popular way to add a touch of luxury to your pool area.
View additional Natural Facing outdoor living projects.
Outdoor Kitchens and Service Areas
Homeowners are bringing the kitchen outside, complete with built-in grills, refrigerators, sinks, and other food preparation essentials. An outdoor kitchen provides an easy and convenient way to prepare and serve food for outdoor gatherings without having to constantly go back and forth to the indoor kitchen. Pizza ovens are also increasingly popular and add a unique cooking option to your backyard.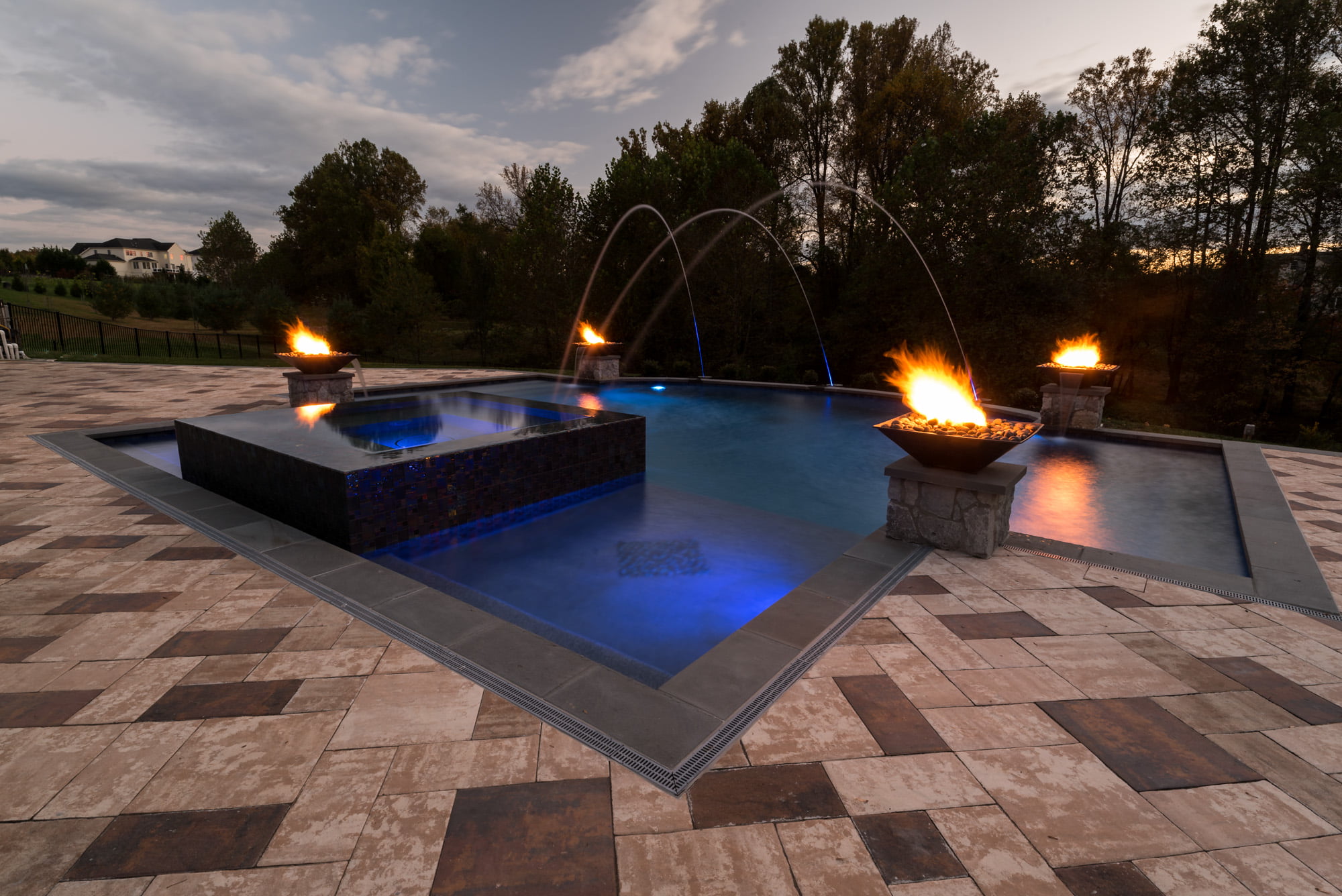 Utilitarian Accents
With the advancement of smart technology, homeowners can now control their pool and outdoor living areas with the touch of a button. From lighting to heating to music, smart technology has made it easier than ever to create the perfect atmosphere. Options like automatic pool covers can reduce maintenance and increase safety around your pool. Lounging ledges, also called a sun shelves, gives you a comfortable place to relax in the pool.
Heated Multi-Season Conversation Areas
When your friends and family are done in the pool, a nearby conversation area can keep everyone enjoying the outside. These areas often incorporate fire pits, fire bowls, and fireplaces. These fire features are a great way to provide warmth and create a cozy atmosphere for outdoor gatherings beyond just the summer months.
View additional Natural Facing stone veneer fireplaces. 
Tips from the Pool Experts
We asked Johnson Pools what they wished more people knew when starting the pool process. Zach Casto said "I wish there was a better way for people to dig through the weeds to know which companies can really do it right." He went on to explain how a lot of companies in the pool industry will sell customers on their capabilities with the mindset of figuring it out later. They quickly get over their heads.
Here are some tips for finding the best outdoor living and pool contractor:
Ask how they get it done. Are they doing everything themselves or does some work get outsourced? Companies like Johnson pools have the capabilities to do everything in-house.
Investigate their experience. Is there a trained landscape architect on the team? How long have they been working in the industry? What training does the team have?
Talk to past customers. Get information from recent customers about the process, communication, what they wish they knew before getting started, and what they would do differently if they did it again.
Educate yourself. Do research about what goes into building a pool and educate yourself about what it takes to do it right. This will help you ask the best questions and find the best solution for your project.
Invest in doing it right. Choose products and materials that are going to last a long time and hold up to the activity around your pool. Saving a little bit up front could cost you significantly in the long run in maintenance or even replacement. A great example of this is the difference between real and manufactured stone veneer. Using real stone, like Natural Facing stone veneer, makes all the difference. Real stone provides timeless beauty, durability, and longevity to your outdoor living space. 
The Importance of Using Real Stone for Pools and Outdoor Living Areas
An outdoor living space is constantly exposed to the elements. Pool water also contains chemicals that can damage certain materials. Using real stone for outdoor living spaces and pools provides a durable, versatile, and aesthetically pleasing option that adds value and beauty to your home while being sustainable and low maintenance.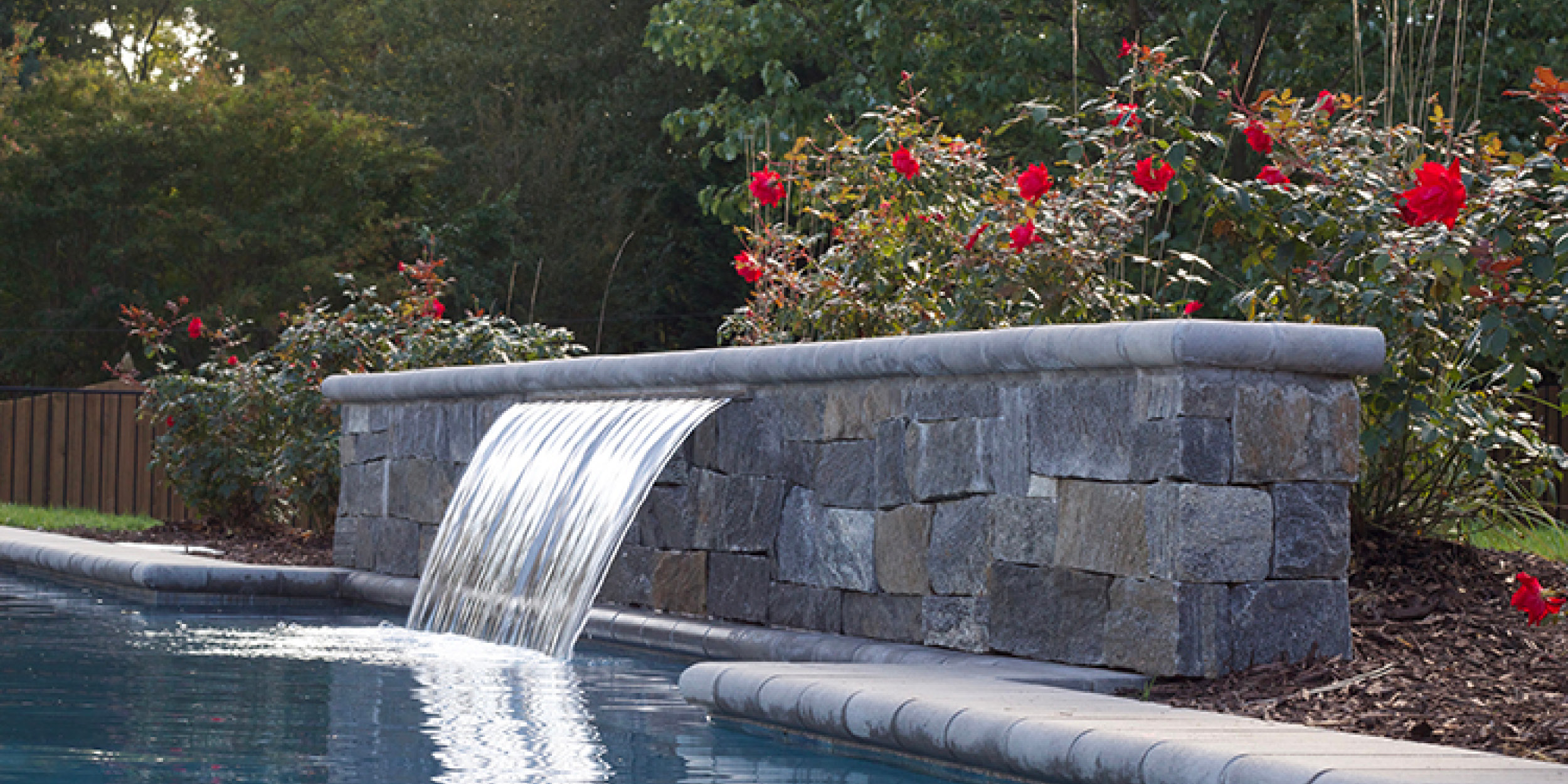 Aesthetics
The natural beauty and unique character of real stone veneer cannot be replicated by synthetic materials. It adds a timeless and sophisticated look to your outdoor living space or pool area.
Photo: Ocean Blue Ledgestone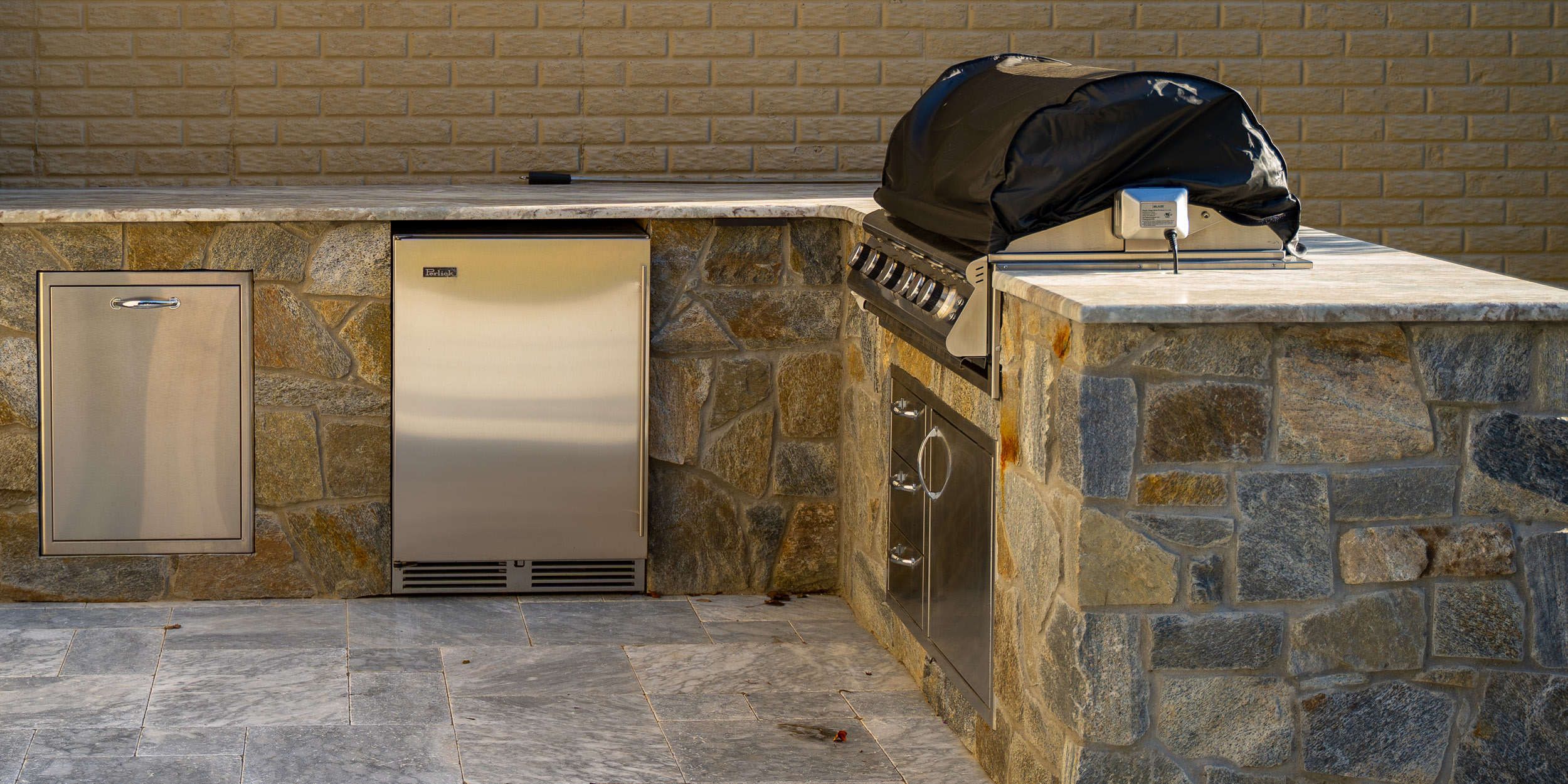 Durability
Real stone veneer is extremely durable and able to withstand harsh weather conditions, extreme temperatures, and heavy foot traffic. It can last for decades, making it a long-term investment for your outdoor living space or pool.
Photo: Autumn Crest Mosaic
Versatility
Real stone veneer comes in a variety of colors, textures, and shapes, allowing you to create a customized look for your outdoor living space or pool area. It can be used for everything from pool coping and decking to walls, water features, and fireplaces.
Photo: Ocean Blue Ledgestone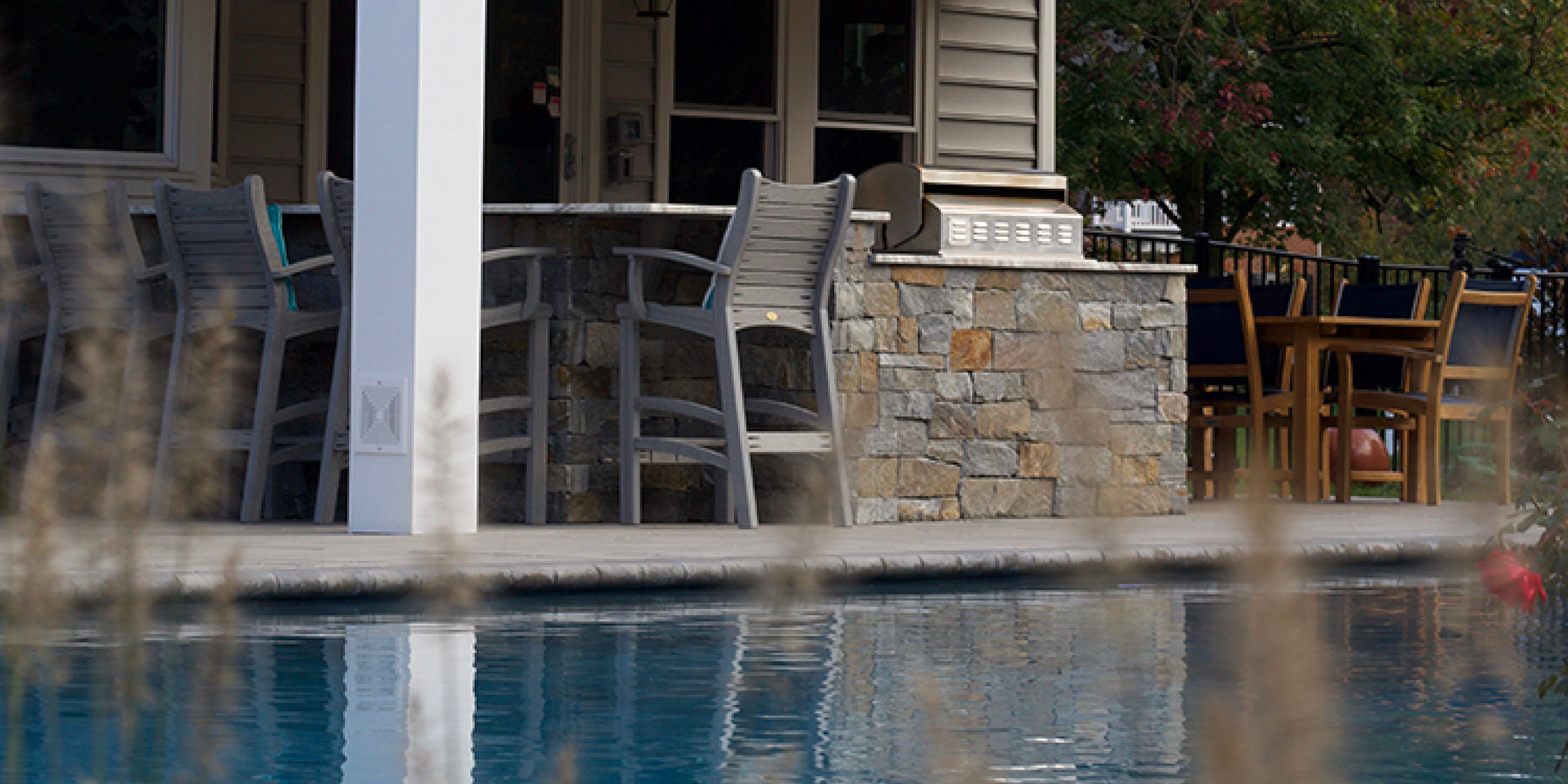 Sustainability
Real stone veneer is an environmentally-friendly choice for outdoor living spaces and pools. It is a natural and renewable resource that can be quarried without damaging the environment.
Photo: Ocean Blue Ledgestone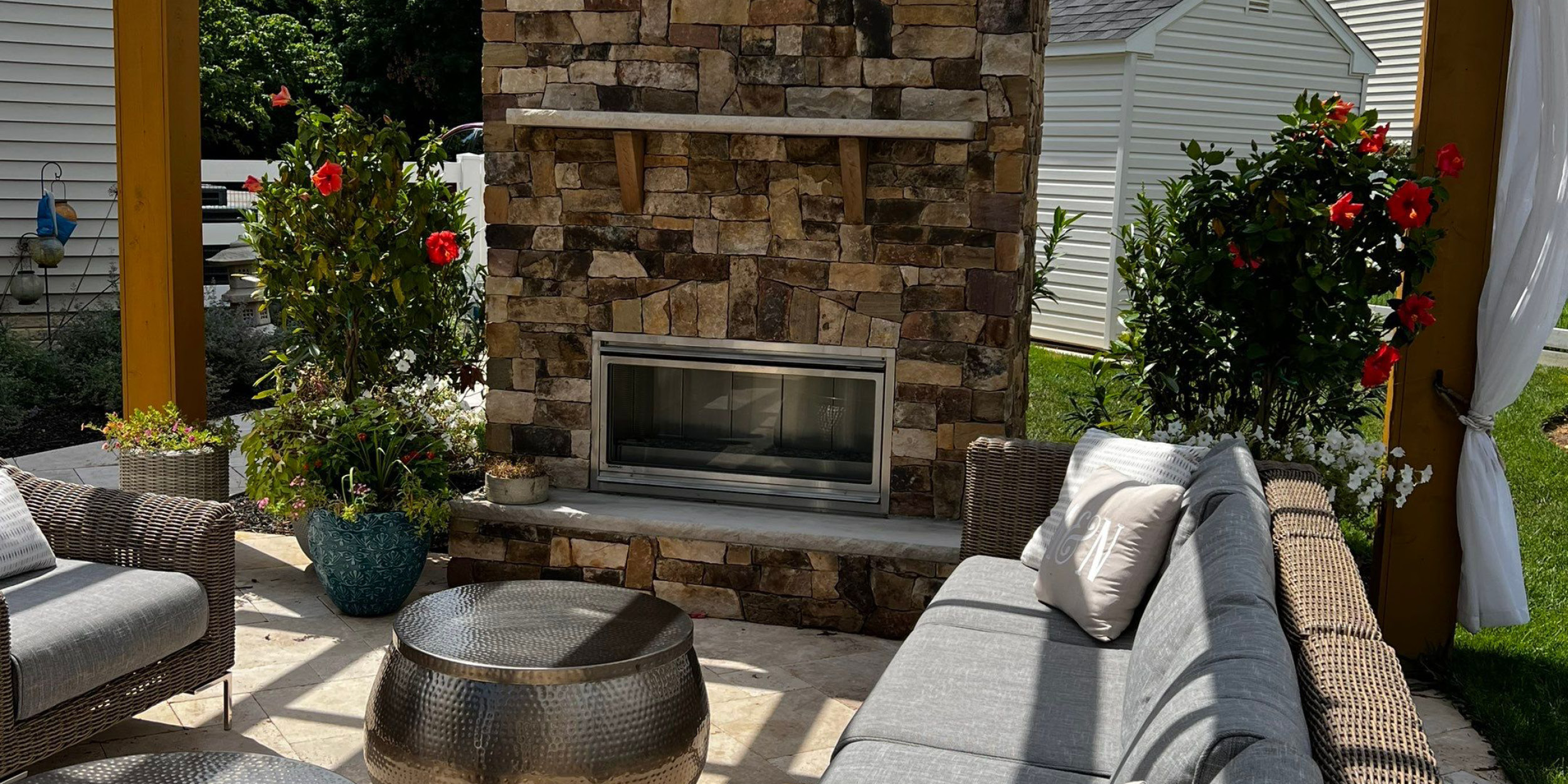 Affordability
Due to advancements in stone cutting technology, real stone veneer is more accessible than ever. This cost-effective solution to incorporating natural stone into your outdoor living space provides all the benefits of natural stone with less weight and easier installation.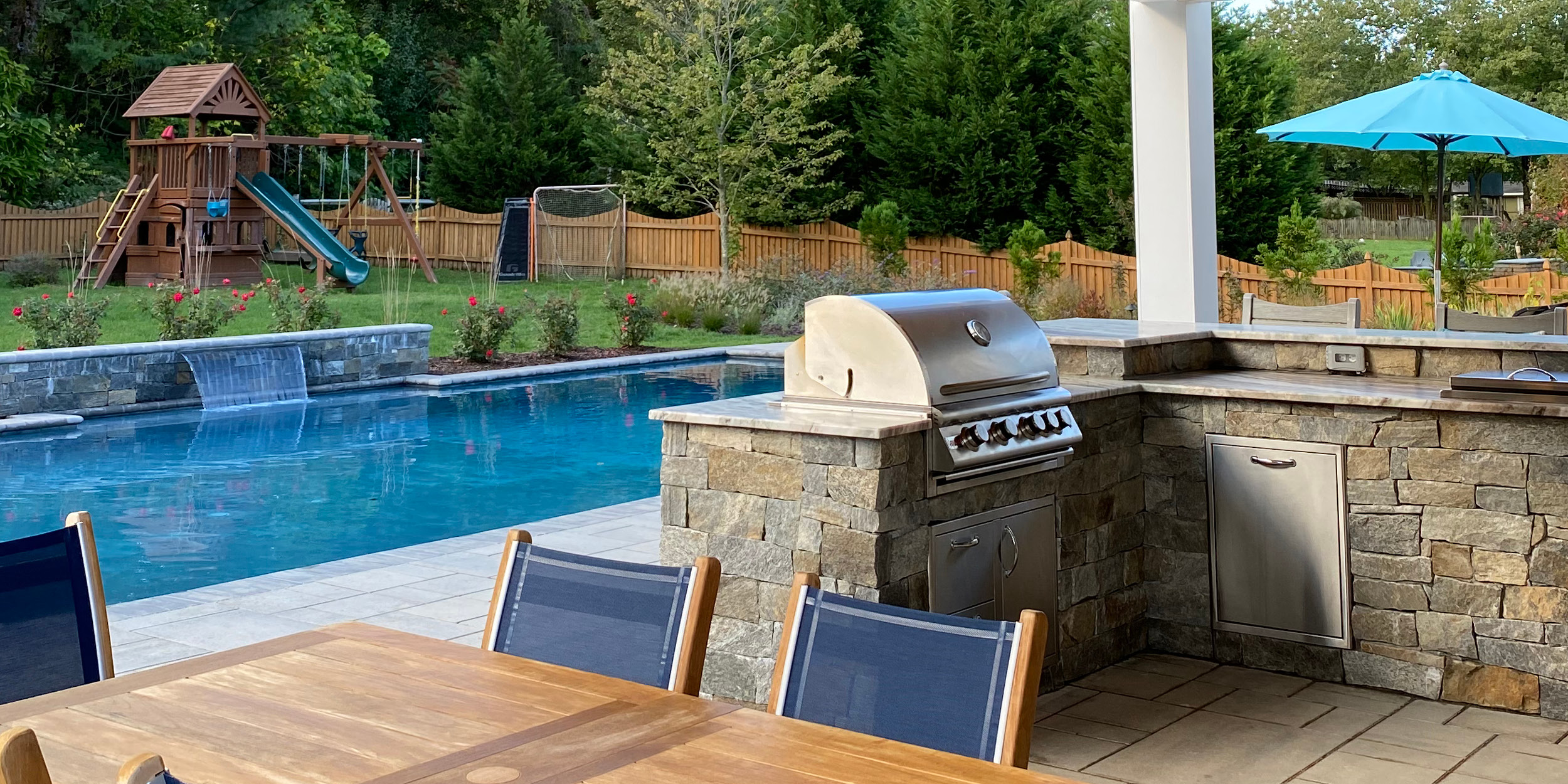 Low Maintenance
Real stone requires very little maintenance compared to synthetic materials. It is resistant to staining, fading, and scratching, and can be easily cleaned with water and a mild detergent.
Photo: Ocean Blue Ledgestone
What is Real Stone Veneer?
Sawn thin stone veneer, also called real stone veneer, is 100% natural stone that's been carefully cut to a thickness of 3/4″ to 1 1/2″ using specialized equipment. Prior to this technology, manufactured stone veneer was the only alternative to heavy building stone. Natural Facing is more durable, has a better color variation, and requires less maintenance than manufactured stone.
By choosing Natural Facing, you get real stone from regional quarries that's been carefully curated, shaped, and sorted by our stone experts. We're known for our quality control, which provides clean cuts and reduced waste.
Our product comes from a quarry, not a factory. Since our product is from nature, no two stones are ever exactly alike. This adds to the beauty of your project. Natural Facing features variation in color, markings, and texture that can only be found in nature.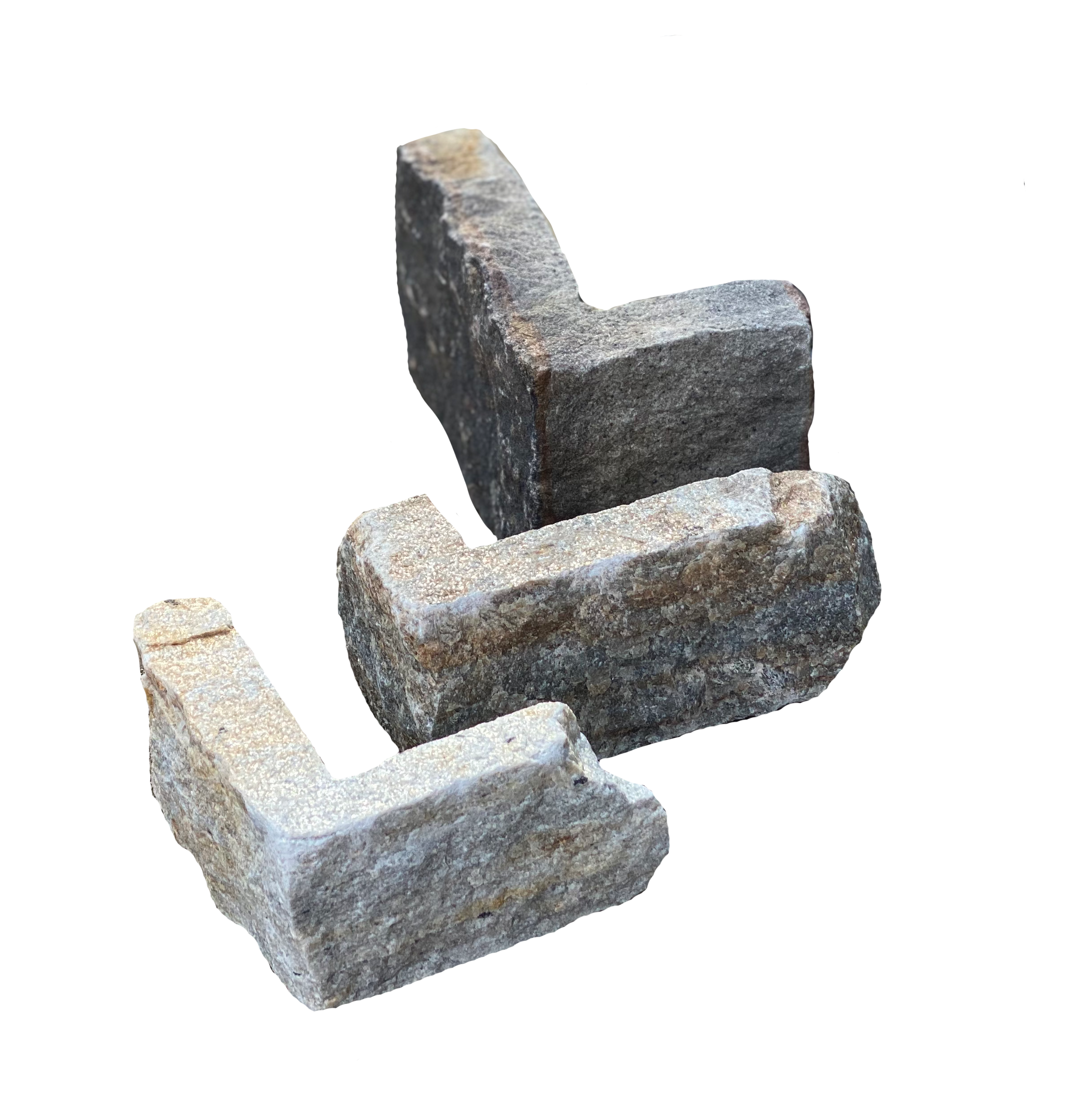 Choose Natural Facing Real Stone Veneer
Not all stone veneers are real. And not all real stone veneers are created the same. Natural Facing's stone experts understand the nuances of real stone and work tirelessly to provide quality products and exceptional customer service. Those who invest in Natural Facing understand the value of real stone veneer. And once they choose Natural Facing, they keep coming back. Our real stone veneer quality, longevity, and timeless beauty can't be manufactured.
Find a Dealer Near You
Browse Our Stone Catalog