Homeowner Confesses: "I Didn't Know Better"
The following is a guest post from a Natural Facing customer.
My wife and I are both small business owners with hectic schedules. We moved into a new construction home in 2016 and started reaching out to contractors to create a backyard living space in 2018. The overall project included stone steps leading up to our front door, a small retaining wall on the front garden, and a large patio in the back with built-in firepit and sitting wall.
Once we chose our contractor, the sales person brought over a nice catalog of paver options and suggested coordinating "stones." At his encouragement, we also went over to a local stone yard to see the materials in person and make our final selection. Neither the landscaper or the landscape supply company educated us on the options available. They simply pointed us in one direction and we followed their lead. Being that we have never purchased stone before, I didn't know any better.
Disappointed by Manufactured Stone
The "stone" wall we were sold is molded concrete. It is somewhat protected by the patio on one side and some landscaping on the other side. So, while it is exposed to the elements, it's not in a heavy traffic area or even in the path of our lawnmower. We do have two toddlers, but their toys are plastic and that's all it took.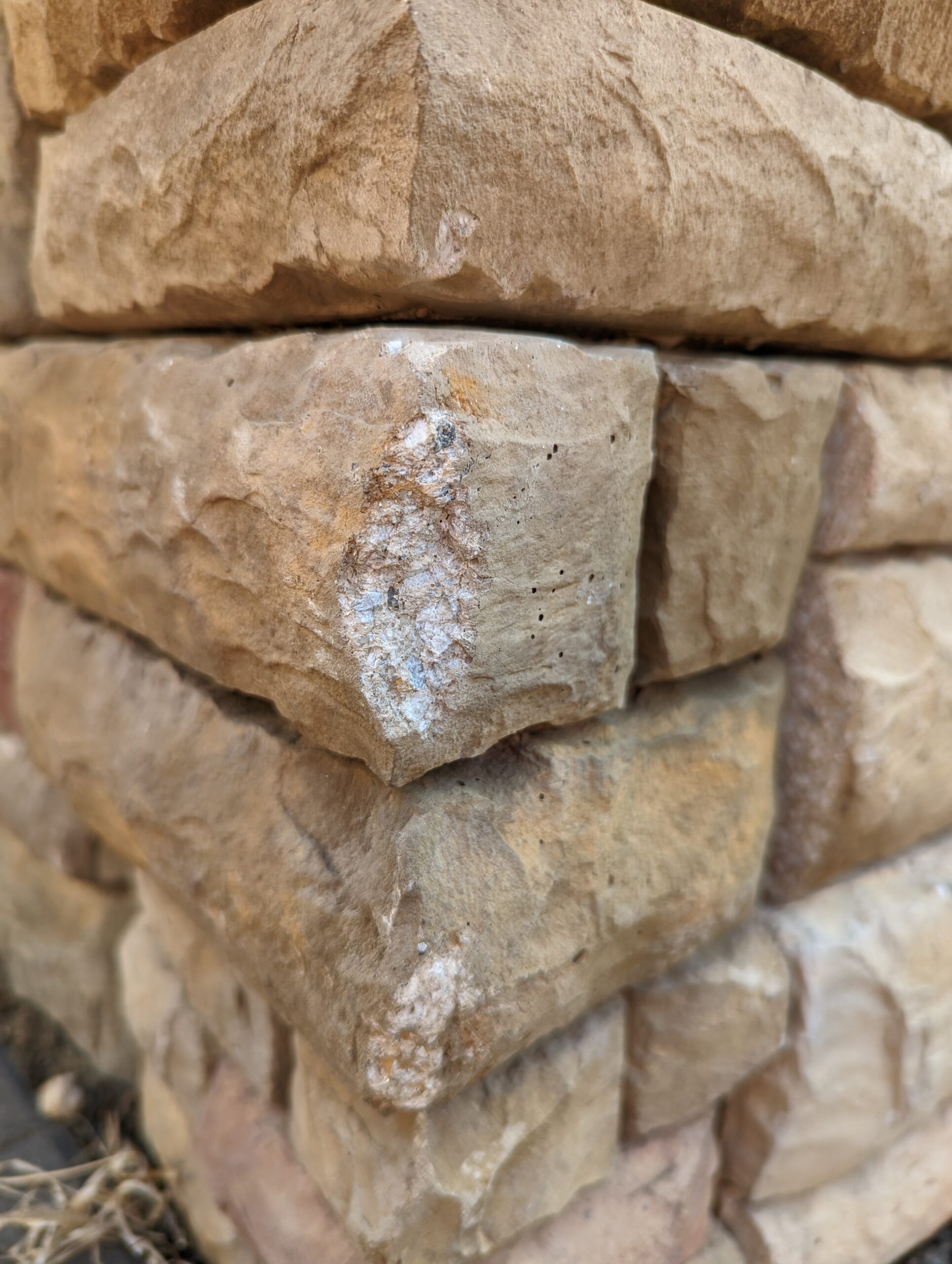 Damaged by a Toddler
A few too many run-ins with a Little Tikes car and our "stone" wall chipped exposing concrete.
The Sales Person Should Have Presented Options
Every time I sit in my back yard and stare at our rapidly deteriorating stone wall, I wonder why we were never presented options for real stone. Did they think it was out of our budget? Do they not know the benefits of real stone? Did they think it was too hard to install?
It was probably a combination of factors. Price was certainly a consideration for our project, but so was durability and appearance. If we had any idea our manufactured stone wall would look like it does after only three years, we would have picked a different product. I can't believe no one told us about real stone veneer. The fact that neither the landscaper or dealer educated us to the options available is infuriating.
Don't Just Focus on Initial Looks
We got the gorgeous stone appearance for the first year or so. One cold winter and a hot summer later, we started to notice the issues. A couple more years and the issues got more pronounced. That's when I started researching more about what happened and what to do about it. I saw countless articles about avoiding pressure washers, using special chemicals, the need to seal fake stone, and ways to repair chips.
Again, no one told me about the disadvantages of fake stone or the required maintenance. I regret not doing more research on the longevity and durability of the products we were presented by the "experts." If I had known, it would have been a no brainer to upgrade to real stone.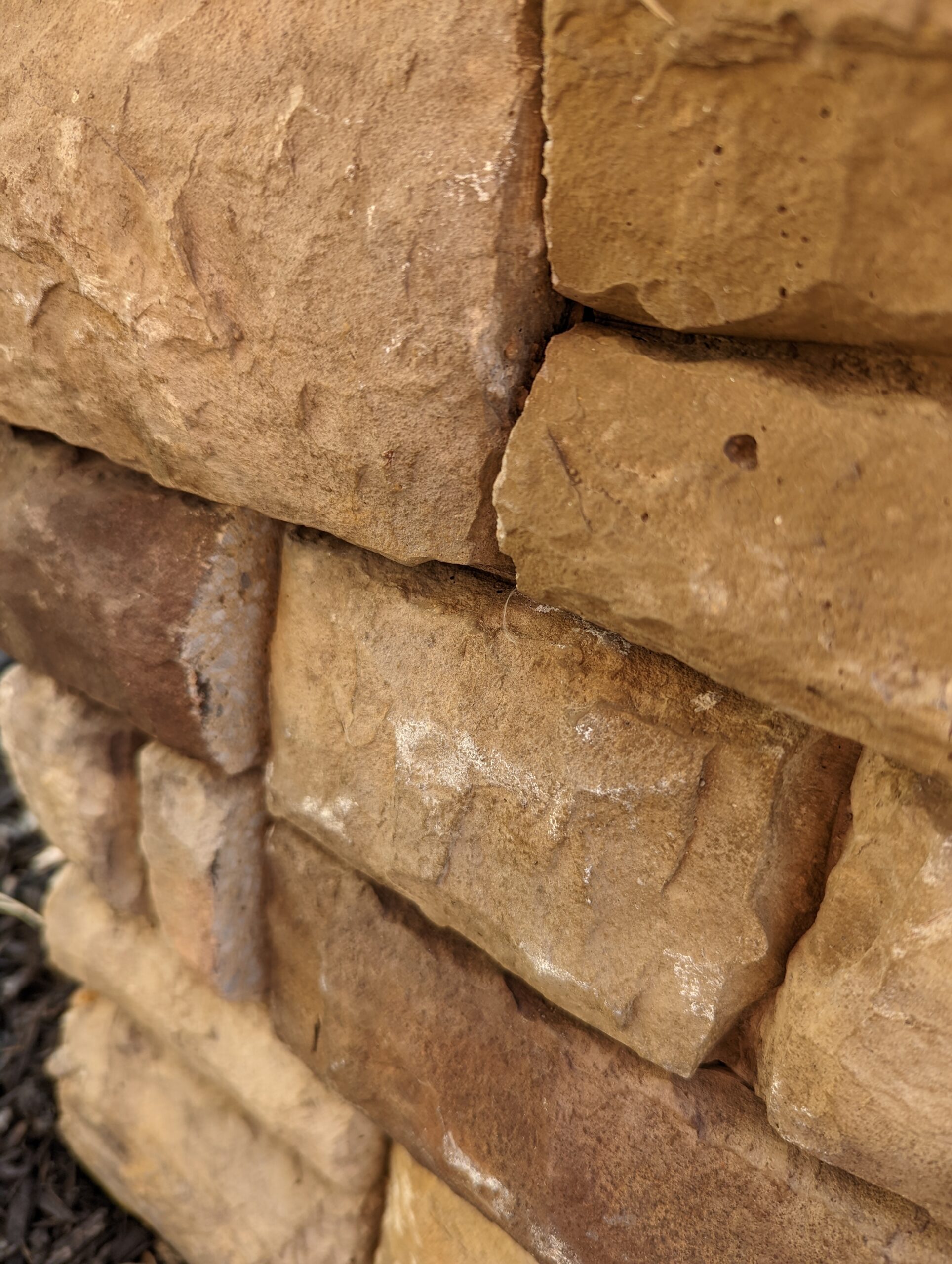 Manufactured Stone Can't Withstand Weather
We also have discoloration from the weather. I can only imagine how bad this would look if we salted nearby.
Once You Know, You Know
I see fake stone everywhere now. From corporate office parks and shopping centers to my neighbor's pool. The reason I know it's fake is how bad it looks. The exposed aggregate, the bland colors, the discoloration, and so on.
And when I see the real thing, I know that the contractors involved and the owners care about the quality and longevity of the project. Not just the quick sale. They want the project to look good 5, 15, even 50 years from now.  The real stone steps we had installed at the same time, look the same as they did on the day they were installed. No fading, no discoloration, and no damage even through active kids and endless Amazon deliveries.
Avoiding Disappointment with Stone Veneer
Natural Facing is helping the customer who provided the testimonial above with the next phase of their backyard living space. Here is how to avoid facing the same disappointment:
Find a contractor who knows the value of real stone: A contractor that understands the value of real stone would make sure you were educated on the available options. If they are looking out for your best interest, they would encourage you to buy the real thing for durability, longevity, and appearance.
Compare it in person: Seeing is believing. Once you see real stone compared to fake stone, there is no way you would fall for manufactured stone marketing statements. The nuances of real stone, including variations in color and texture, can't be manufactured.
Make sure installation is top-notch: When a contractor is showing you their portfolio, they are showing you the work immediately after it was installed. The real test is seeing how it looks five years later. Talk to past clients to see how well the installation is holding up.