Choosing the Best Stone Veneer
The History of Stone Veneer
People have been building homes with stone for thousands of years thanks to the extensive supply of granite and rocks from Mother Earth. For modern construction, using full-sized building stone became increasingly problematic. Manufactured stone veneer was developed to mimic the look for real stone, but it's never come close to the real thing.
That's why Natural Facing was created.
We wanted to address the critical need in the market: a more economical and practical way to provide the endless benefits of real stone.   
What Is Real Stone Veneer?
Real stone veneer is material made from cuts of 100% natural stone. Specialized saws cut each stone into thin, easy-to-install veneer with a thickness of ¾" to 1 ½".
Prior to this technology, manufactured stone veneer was the only alternative to heavy building stone. Unlike manufactured stone, Natural Facing is durable, has a better color variation, and requires no maintenance.
Our in-house quarry experts understand the nuances of natural stone and meticulously select our blends based on quality, consistency, and aesthetics. Since it's natural, you get superior durability, lifetime weather resistance, and timeless beauty that can't be manufactured.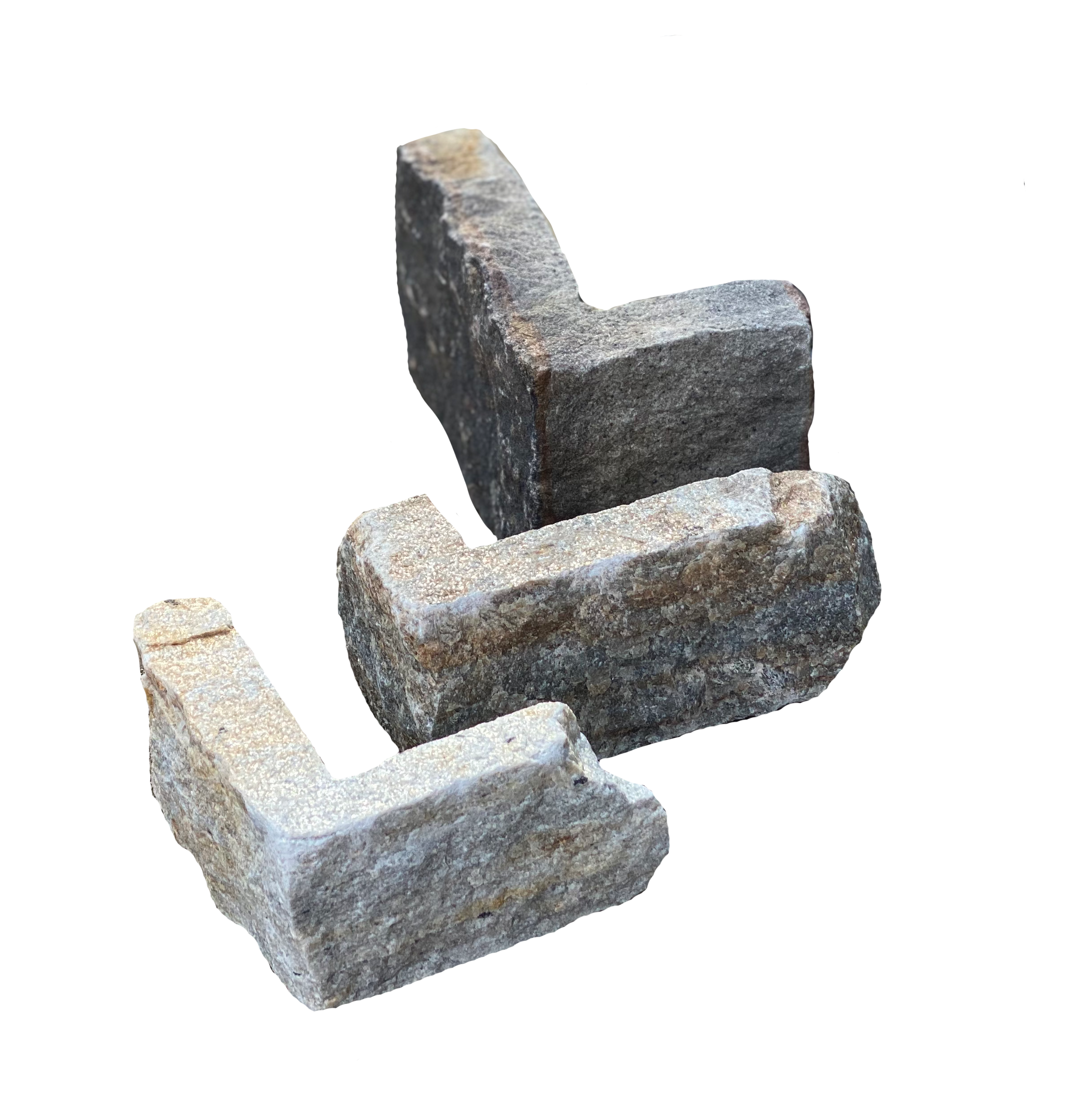 How to Select a Natural Stone Veneer
When embarking on a new home build or renovation project, you are faced with countless decisions. Since you are reading this article, we hope that you understand the extensive benefits of real stone and need help narrowing down the options.
Here are three main things you need to consider: ordering, installation, and the finished look.
Ordering Real Stone Veneer
Know the Difference Between Real and Fake Stone
Educate yourself on the differences between manufactured and real stone veneer. Natural Facing is more durable, has a better color variation, and requires less maintenance than manufactured stone.
See the Samples
Locate a natural stone veneer dealer near you to see and experience the color and texture of the real stone in person. All our dealers have a variety of sample boards and many installed vignettes. Depending on the size of your project, Natural Facing offers free field samples. Designers and architects often work with their dealer to compare display boards and get onsite color approval. For those times when samples can't travel, Natural Facing also offers printed resources such as StoneSelector for helping customers review and purchase sawn thin stone from the comfort of their home or business.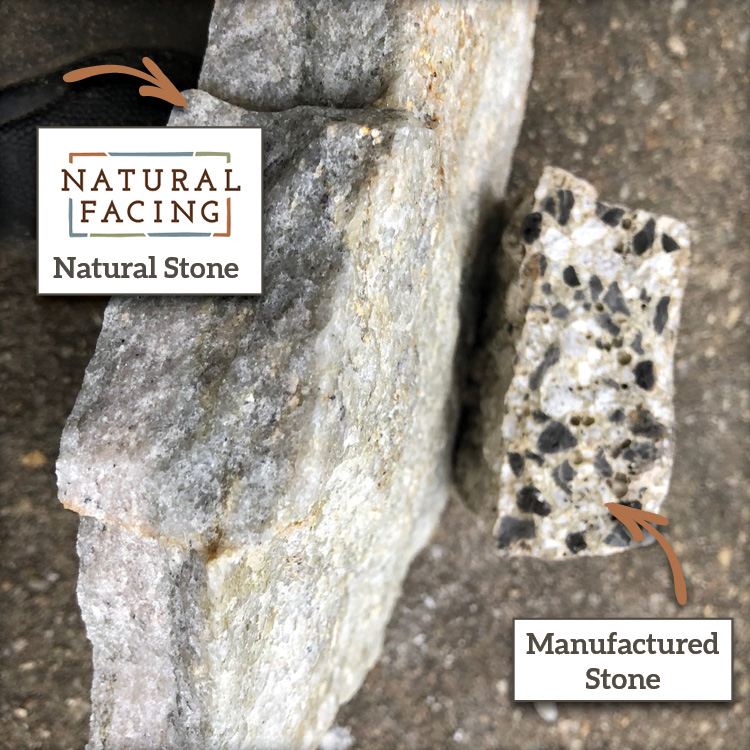 Real stone might be a couple dollars more a square foot, but over time it will not lose its color. In the early 2000's manufactured stone was popular and very price effective because thin stone did not exist.  When I look at homes I built or homes that I visit as a realtor that are 15 to 20 years old the color has faded out.
Use Available Resources
As with any decision-making process, the more you know the easier it is to make a decision. That's why Natural Facing continually develops resources to help with the selection process. Browse our digital lookbook and project gallery for inspiration. Look at different setting styles and our stone blends to determine which combination is right for you. Natural Facing also offers installation guides and trainings for designers, architects, and builders to learn more about real stone veneer.
Choose Transparency
It's important to select a stone veneer company that provides full transparency throughout the buying process and minimize surprises. For example, Natural Facing offers Stone Tracker™, which includes proactive updates on initial order receipt, paperwork processing, fabrication of the natural stone veneer, transportation of the final product and delivery status for a stress-free project and happy homeowners.
Tackle Turnaround Time
Timing is a critical consideration for all stakeholders when selecting materials. Supply chain disruptions can put a snag into any project. While lead time has been a challenge throughout the construction industry, Natural Facing increased capacity and reduced lead time with our selection of Quick Ship Stones. You can even get ahead of schedule with delivery in as little as one day!
Installing Real Stone Veneer
Pick Preblended Pallets
Natural Facing's quality control processes ensure that each palette is premixed for a variety of color and shapes. Masons don't have to sort through piles of stone or make unnecessary cuts. This saves time during installation and reduces waste. It also helps ensure a balanced installation with each section showing more variety in stone color and size.
Inspect the Quality of the Cuts
Consistent cuts are critical to the final result. If the thickness varies too widely or backs of stones are not smooth, the installation will take longer and the finished look will suffer. Natural Facing is regularly praised for the quality and consistency of its stone cuts. This is particularly critical with our matching sawn thin stone corners. Our clean corners install beautifully and create a cohesive, seamless look across your entire project.
Consider Complementary Accents and Accessories
Don't overlook the functional needs of your project. Our coordinating accents, including electrical and light trim boxes, provide a clean finished look around necessary components. Our wainscot sills are available in three colors and create a polished edge for any of our stone blends. You can even elevate your project with complimentary address plates and date plates.
The Finished Look of Stone Veneer
Embrace the Beauty of Natural Stone
You can't fake natural. Real stone has subtle variations in color, markings, and texture that can't be manufactured. These nuances are what makes natural stone so beautiful. Plus, the durability of real stone ensures that the final appearance lasts for generations without ongoing maintenance.
Pick Your Installation Style
If you choose a light-colored mortar and have thicker mortar joint, the stone is going to appear lighter and have more contrast that other installations. Work with your designer or architect to decide whether or not you want a mortar joint and what color mortar to use.
Find a Good Installer
Bad installation can ruin the greatest products on the market. Make sure the installer uses best practices for installing stone veneer, including proper substrates and quality mortar.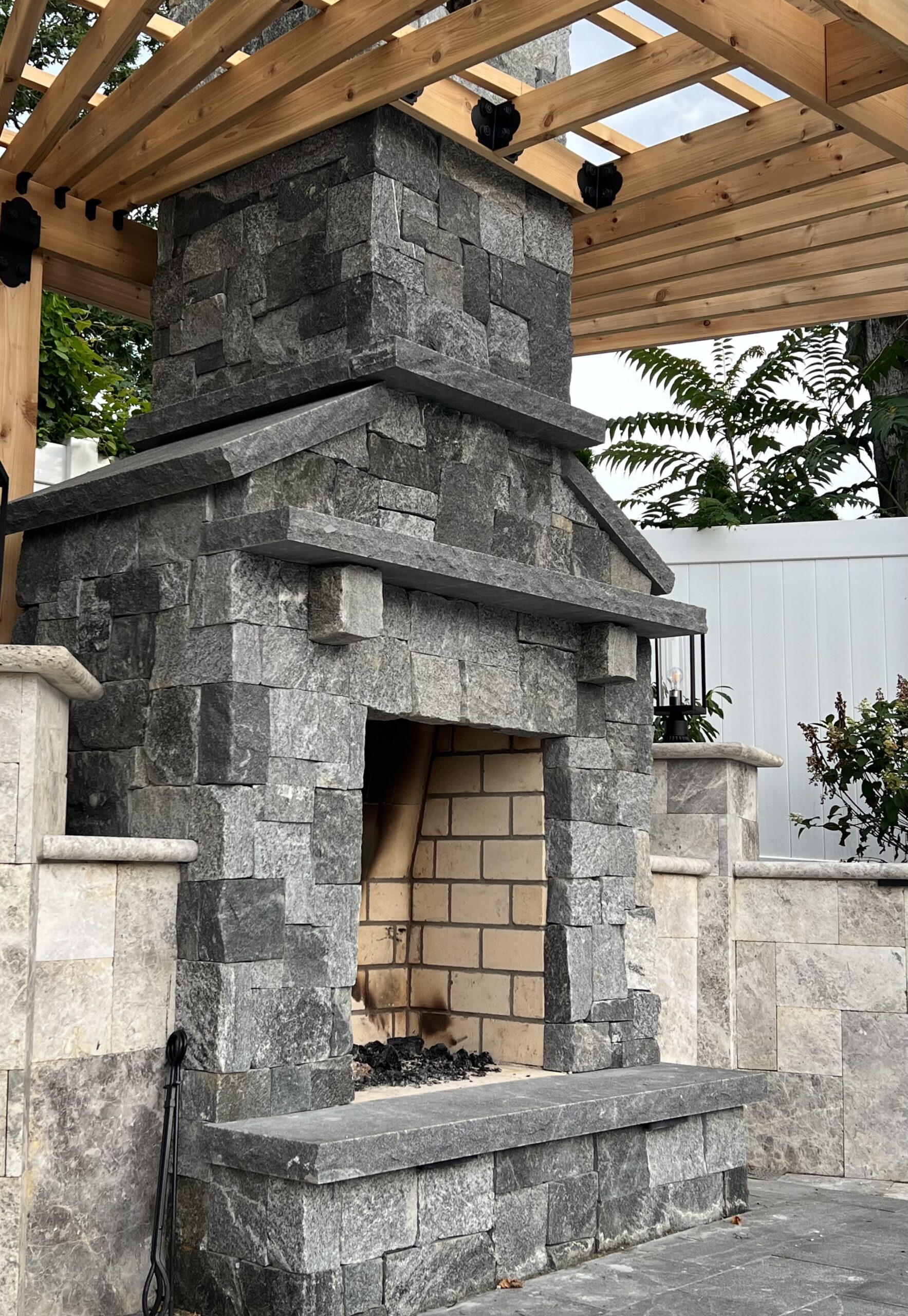 Ready to Start?
Homeowners, designers, architects and builders should work together to choose the best stone veneer for the project. To help with your decision, Natural Facing offers open communication throughout the buying process. We look out for our customer's needs with our pre-blended, well-cut stone in a variety of natural colors, shapes and sizes.
Find a Natural Facing stone veneer dealer near you and see our stones in person.