Understanding Different Stone Veneer Styles
Understanding Different Stone Veneer Styles
Several stone veneer styles look similar, but they are not created equal. When choosing the right stone veneer style for your home or project, it's important to understand different stone veneer options and which projects are best suited for each style.
Real vs. Manufactured Stone Veneer
There are two main categories of stone veneer: real stone veneer and its manufactured counterpart. Real stone veneer comes from a quarry, not a factory; it is material made from cuts of 100% natural stone. Manufactured stone veneer is molded lightweight concrete with artificial color applied only to the surface.
While both stone veneer options are easy to install, real stone veneer offers far superior durability, lifetime weather resistance, and low moisture absorbency. Manufactured stone veneer, on the other hand, chips and exposes its concrete interior. Fake stone also fades and deteriorates over time. For these reasons, and more, manufactured stone fails to deliver long-term value.
Natural stone veneer not only provides timeless beauty with its natural color palette, it offers elegance and value that lasts for generations.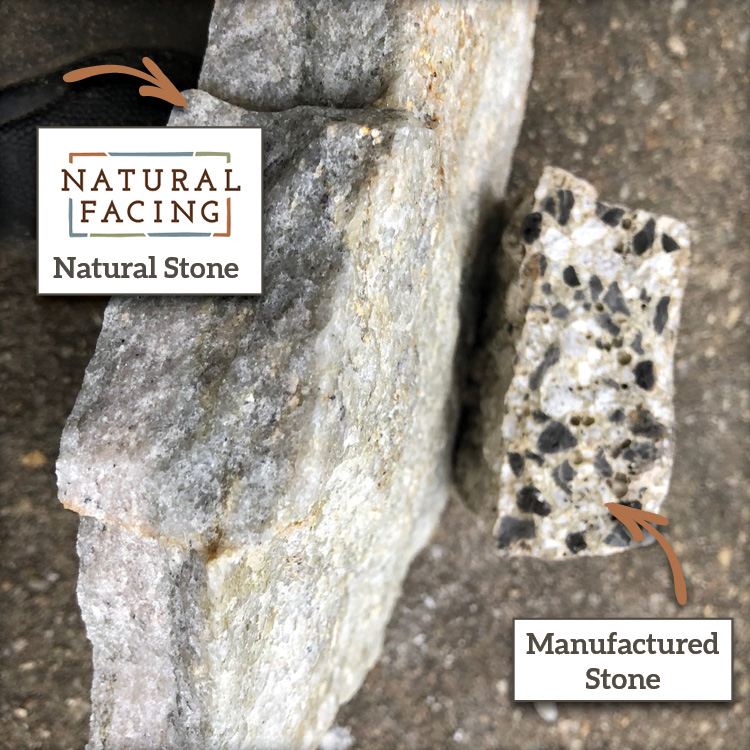 Natural vs. Manufactured Stone Veneer
Manufactured stone is concrete with coloring added to the surface. Shaping and everyday wear expose the aggregate interior. Natural Facing stone veneer is 100% real stone with solid material all the way through. 
Different Stone Veneer Setting Styles
The stone setting style and mortar colors are equally as impactful as selecting the right stone veneer blend. They help set the aesthetic tone for the project. Stone veneer can be installed with or without a mortar joint. The installation without a mortar joint, also called drystacking, provides a tighter look but often requires more masonry time regardless of the natural stone veneer style.
Whether it's modern or traditional or somewhere in between, the setting style can drastically change the appearance of the stone. Darker mortar will make the stone appear darker whereas lighter mortar can lighten the appearance of the stone.
The thickness of the mortar joint can further alter the appearance of the stone. Thicker mortar joints add more of the mortar color to the overall palette. This can be helpful if you want to create a stark contrast between lighter mortar and dark stone or vice versa. For the most traditional look, we suggest a natural, neutral mortar color that mimics the stone colors.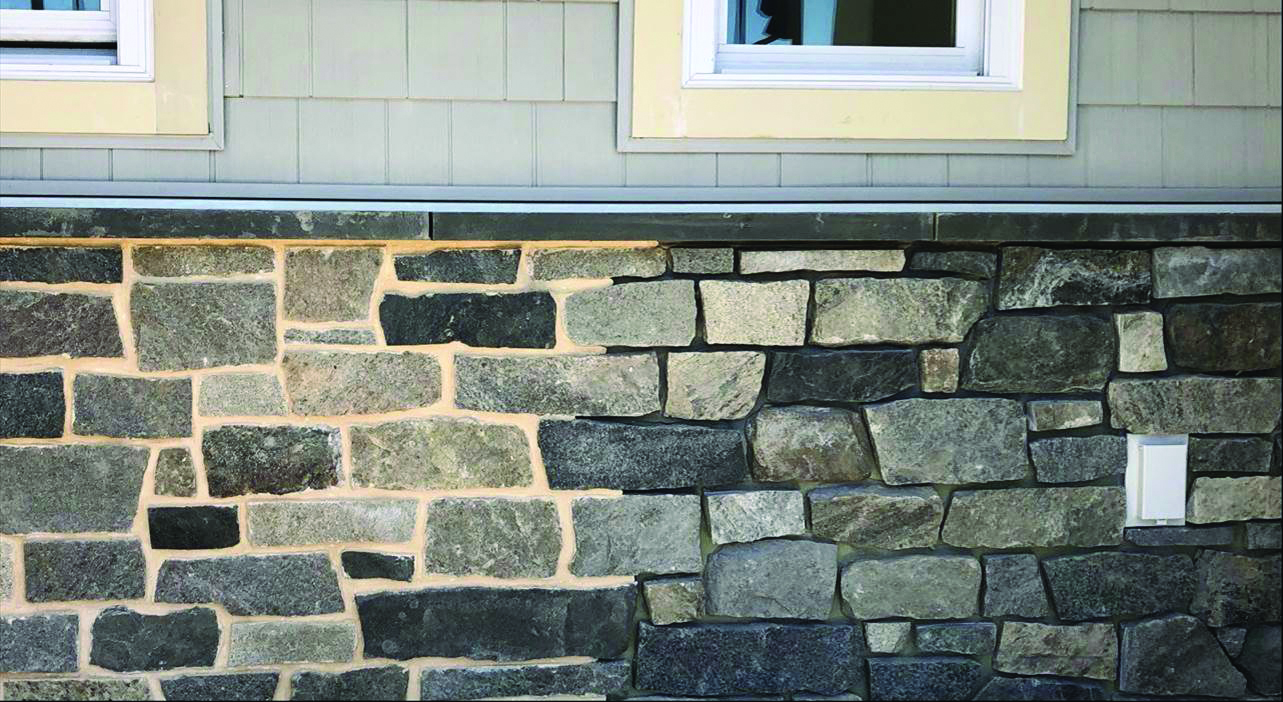 Light or Dark Mortar? No Mortar Joint?
How you install stone veneer can transform the look of a stone. The image above shows the same stone with light mortar joint installed on half of the wall. Drystacking, or installing without a mortar joint, creates a even different look. 
Different Stone Veneer Shapes
The three most popular stone veneer shapes are Ledgestone, Roughly Rectangular and Mosaic.
Ledgestone
Ledgestone veneer is characterized by its lineal individual rectangular pieces of stone laid in a linear pattern, often exposing the end grain of the stone and offers a rustic textured look. Sawn thin natural stone veneer cut into ledgestone style can vary widely between 1"–6" in height, 4"–18" in length and 3/4″–1 1/2″ in thickness providing homeowners a lot of control over the final look. In general, the size of the natural ledgestone veneer can be a good guide for how it's used. For example, smaller sized stones are great for indoor projects such as fireplaces, small columns and kitchen backsplashes. Larger stones can be used for external projects including outdoor fireplaces, columns, seating and siding. Working with a designer and architect can be helpful when selecting the best ledgestone blend for your project.
Roughly Rectangular
Roughly Rectangular natural stone veneer offers a great style for homeowners who prefer a more structured look. Roughly rectangular sawn thin stones still boast the 3/4″ to 1 1/2″ thickness real stone veneers are famous for, and they tend to be taller and wider than those of the Ledgestone style with an approximate height and length anywhere from 4" to 14". Though more uniform in shape, Roughly Rectangular stone veneer, like those at Natural Facing, still offer varying sized stones to help avoid a brick-like pattern. 
Roughly Rectangular stones are most often used for home exteriors, interior accent walls, fireplaces, chimneys, walls, grills and other exterior surrounds like retaining walls.
Mosaic
While Roughly Rectangular is more uniform and structured, Mosaic stone veneer is more fluid and organic. Various polygon shapes combine to create a more random pattern. Sizes can vary with approximate heights and lengths between 5"-12".
Mosaic stone veneer can be used on a wide range of projects, but it really shines when used on sizable surfaces like home exteriors, retaining walls, and large fireplaces.
Selecting the Right Stone Veneer
We recommend browsing completed masonry projects of different styles before choosing your stone veneer blend. You can view our digital lookbook, browse our online  stone veneer gallery, or follow us on Facebook and Instagram for more inspiration and tips.
Whichever veneer style you select for your project, make sure it is 100% real stone veneer. The benefits of natural stone ensure you have lifetime value, beauty and integrity.
About Natural Facing Real Stone Veneer
Not all stone veneers are real. And not all real stone veneers are created the same. Natural Facing's stone experts understand the nuances of real stone and work tirelessly to maintain a quality product with exceptional customer service.
Those who invest in Natural Facing understand the value of real stone veneer. And once they choose Natural Facing, they keep coming back. Our real stone veneer quality, longevity, and timeless beauty can't be manufactured.
Natural Facing is available in Ledgestone, Roughly Rectangular and Mosaic styles with numerous color blends available. And, for fast turnaround, check out our Quick Ship Stones available for immediate delivery.